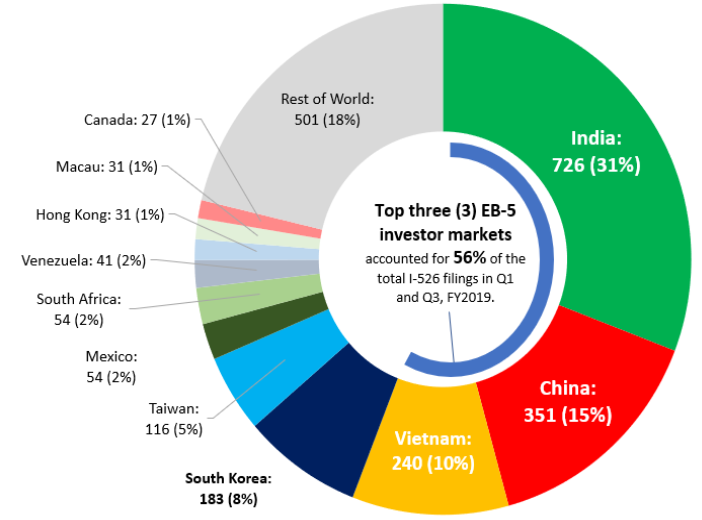 Number and Percentage of I-526 Applications by EB-5 Investor Market (Q1+Q3 FY2019)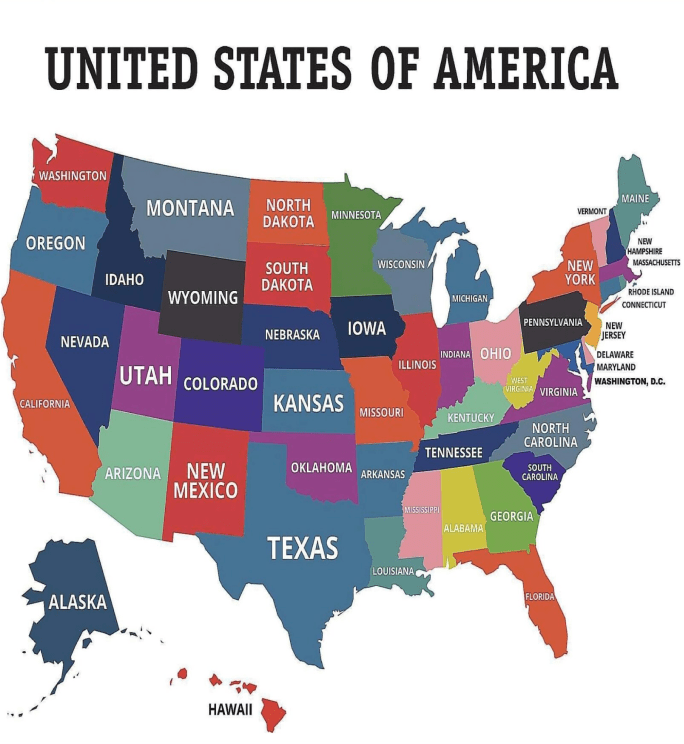 What is the EB-5 Investor Program?
10,000 visas are available for individuals who make an investment in a new commercial enterprise (NCE).
Applicants (and immediate family members) can become permanent residents of the US.
Chương trình đầu tư di dân EB-5 được thành lập như thế nào?
Established in 1993 to increase investment through the EB-5 Program, the US Congress introduces the 'temporary' Immigration Investor Pilot Program (also known as the Regional Center).
The Program reauthorized on March 11th 2022 by US Congress, US Senate and the President Joe Biden signed into Law.
Investment requirement of $800,000 into designated 'regional centers' approved by United States Citizenship and Immigration Services (USCIS)
Money must come from legitimate and legal sources
Investment must create 10 full-time jobs (direct + indirect)
Money must be 'at risk'
No required involvement in day-to-day activity
From 0-30 days:
Client goes over the Documentation-PPM, signs and returns documents through the Immigration Lawyers
The company to review and accept the Investor
The investor wire initial deposit (including Syndication Fee + Regional Center fee, Immigration Attorney Fee + Source of Funds Attorney Fee, and administration fee) to Modern Living Management, LLC Operating Account
From 1 to 2 months:
Investor application is prepared and sent to USCIS after the Source of Funds have been approved by the Lawyers
The investor work with Source of Fund Attorney to wire total investment fund of $800K to USASIA EB-5 FUND Subscription Account and JTC Trustees (USA) Ltd as Escrow Agent.
Completed I-526F Investor Application is delivered to USCIS
From 18 to 24 months:
If the I-526F Application is approved by USCIS, a notification is sent to the Investor
Interview with the USCIS and the Family for their Conditional "Green Card"
The investor's family obtains their Conditional "Green Card" for 2 years. The Investor moves to the United States in an 180 day period
I-829 Application is submitted to USCIS for a permanent "Green Card" 90 days before the conditional status (21-24 months after the Conditional "Green Card"
Permanent Resident 21-24 month after the Conditional "Green Card" or American Citizenship is obtained after 3 years from the Conditional "Green Card"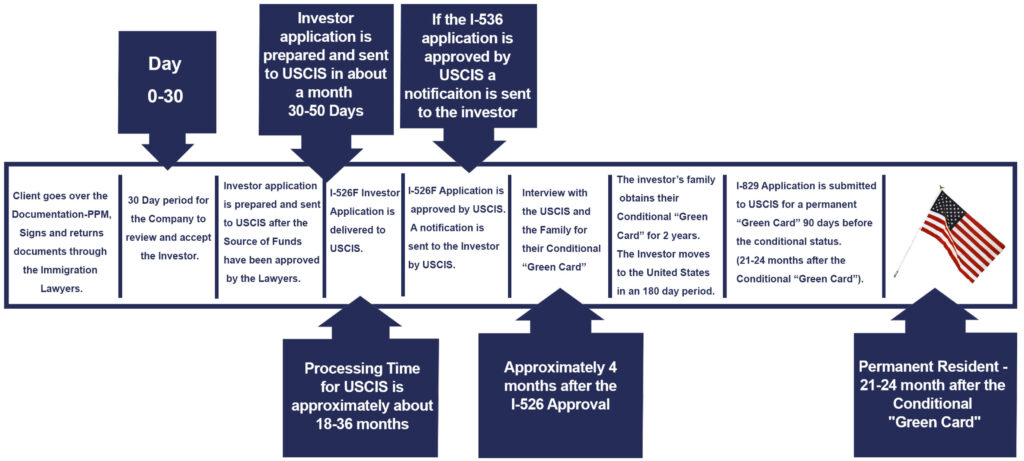 Estimated Duration for EB5 Investment Program
Sale of Limited Partner (LP) slot or mortgage of LP slot to private investor
Sale of entire project (JCE)
Refinance the project.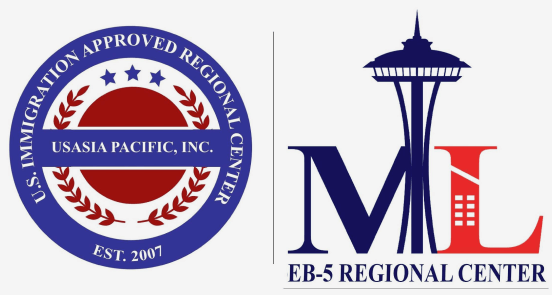 ML USASIA PACIFIC EB-5 REGIONAL CENTER?
We Provide – Real estate investment opportunities in the US west coast marketplace.
We Bring – EB-5 investors together with legal professionals to obtain green cards.
We Insure – That the development projects get built and comply with USCIS requirements.
Our Mission
Deliver superior EB-5 projects for foreign nationals to obtain green cards.
Promote economic growth.
Establish a multicultural community.
Focus on real estate development projects.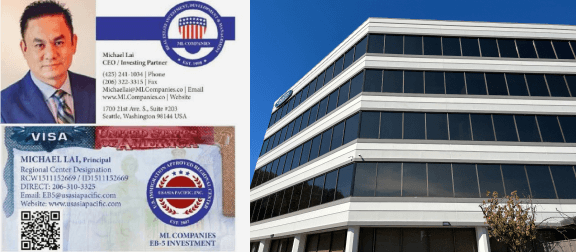 EB 5 – Investment Program through Licensed Regional Center
A fast process for qualified Foreign Investors and their families to obtain a "Green Card"
No need to create your own business
Return your investment in 5 years
Investment through our Licensed Regional Center
Must prove legitimate source of funds for the investment
Investors can live anywhere in the United States
Investor, spouse and children under 21 years of age are eligible to receive the green card
Service & Dedication: All our services are focused individually on each investor coupled with dedication and particularly to the needs and objectives of each investor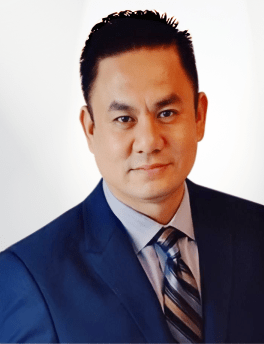 Mr. Michael Lai
CEO | Investing Partner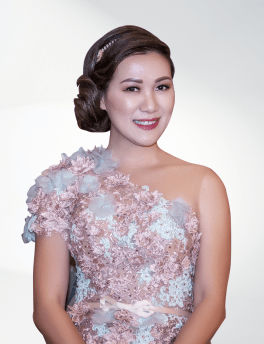 Ms. Orchid Lan Pham
Investing Partner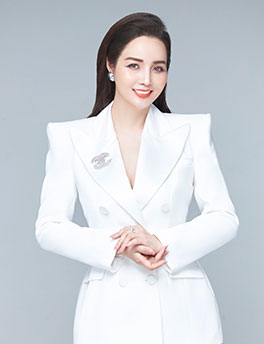 Mrs. Mai Thu Huyen
Investing Partner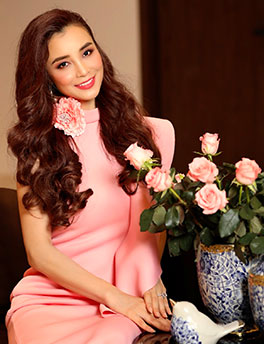 Ms. Mai Thu Trang
Investing Partner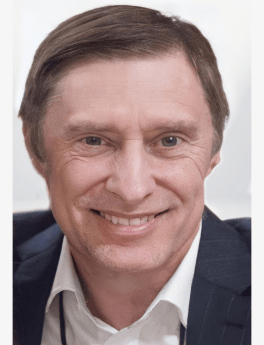 Mr. John Stiver
Vice President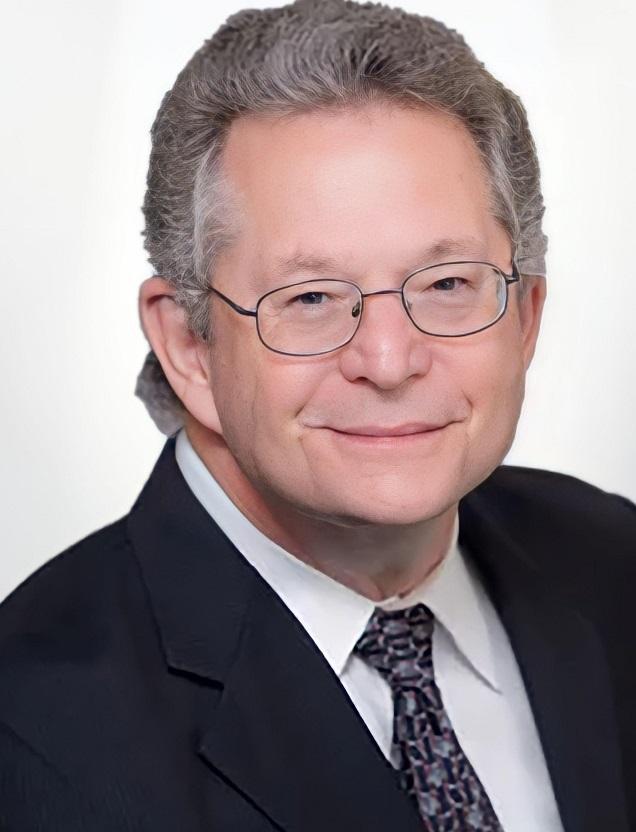 Mr. David Hirson
Immigration Lawyer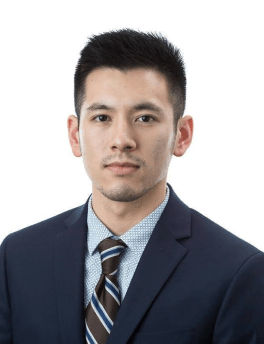 Mr. Zachary Ishimitsu
Designated Broker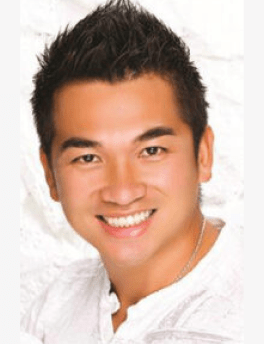 Mr. Lai Tran
Director of Operation
What is the EB-5 Regional Center Program?
In 1990, under section 203(b)(5) of the Immigration and Nationality Act (INA), 8 U.S.C. §1153(b)(5) the US Congress created the fifth employment-based preference (EB-5) immigrant visa category. Each year, the provision grants 10,000 immigrant visas to qualified individuals seeking permanent resident status on the basis that their investment in a new commercial enterprise that will benefit the US economy.
To encourage immigration through the EB-5 program, U.S. Congress created the Regional Center Program in 1993. The program specifically sets aside 3,000 visas each year for foreign investors who apply through a United States Citizen and Immigration Services (USCIS) designated Regional Center. An investor seeking an EB-5 immigrant visa through a designated Regional Center must generally make a qualifying investment of $1,050,000 USD. For businesses in rural areas or in Targeted Employment Areas (TEA) with higher-than-normal levels unemployment, investors applying for an EB-5 visa may qualify with a lesser investment of $800,000. Additionally, the foreign investor must demonstrate that the investment created at least 10 U.S. jobs through direct, indirect, and induced effects. We are specializes in EB-5 projects in Targeted Employment Areas that create jobs in excess of the USCIS requirement of 10 jobs per investor.
What is the minimum required amount of capital to be invested in order to apply for an EB-5 visa?
When investing through a Regional Center, the minimum capital investment requirement is $800,000 USD when you select a project in a designated rural area or Targeted Employment Area (TEA). For other projects not meeting these criteria, the capital investment requirement is $1,050,000 USD. We are actively seeks quality projects that reside in rural or TEA areas specifically designated by the State of Washington in order to ensure that our invest to immigrate opportunities are available to as many qualified investors as possible.
What is a Targeted Employment Area (TEA)?
A Targeted Employment Area, or TEA, is a geographic area in the United States which is either Rural (has a population of less than 20,000), is not part of an MSA, or has an unemployment rate that is 150% of the national average.
What are the benefits of the Green Card?
There are many benefits to obtaining a U.S. Green Card. Each person has his or her own reasons for wanting permanent residence in the United States, and having a Green Card provides many benefits that help investors to accomplish their goals. Some of the benefits of securing a U.S. Green Card include:
1. All legal permanent residents under the EB-5 Investor Program enjoy the same rights and benefits as every other lawful resident of the United States.
2. The U.S. is a safe harbor for your family as well as for your personal and business assets. Any member of your family with a Green Card can enter the United States at any time and stay as long as he or she wishes.
3. EB-5 investors holding Green Cards have access to the United States for personal, trade and business purposes.
4. Permanent residents travel to the U.S. without the need of a visa.
5. EB-5 investors may work, live, or own their own businesses anywhere in the United States.
6. The U.S. has internationally recognized colleges and universities for both undergraduate education and graduate study. As a permanent resident, EB-5 investors can benefit from lower tuition costs associated with U.S. residency.
7. The cost of living in the U.S. is less than most large industrial nations. Consumer goods, services, and housing are significantly less expensive than comparable services and goods in most other countries.
8. Students may work in the U.S. while they attend college and then continue to work afterwards, enabling the student to pay for part of his education and to work while attending graduate and postgraduate studies.
9. The U.S. provides many financial, social and education entitlements –public schools, health and medical attention, social security, and education.
10. The Investor has the ability to bring other family members to the U.S. after proper application, and can obtain U.S. citizenship after 5 years of residing in the U.S.
11. The permanent residency requires no renewal or re-application. Other U.S. non-immigrant visas, such as E-2 and H may never result in permanent residency, have time limits, and require additional filings with USCIS or Department of State. Furthermore, U.S. immigration laws may change and prevent future approval when a renewal of visa is required.
Who is eligible to receive permanent residency (Green Card)?
The investor, spouse, and all unmarried children under the age of 21 are eligible to receive Green Cards through the EB-5 program.
Must I have previous business experience or education?
The investor is not required to have any prior business experience. Likewise, the investor is not required to demonstrate any minimum level of education. The only requirements for the investor are that he or she has the required investment amount from lawfully obtained capital and is able to provide the necessary personal background documentation to the USCIS.

Head Office:
USASIA Pacific Inc | USCIS Immigration Approved Regional Center
16400 Southcenter Parkway, Suite 206 Seattle, Washington, 98188 USA